Hello loves! I'm so excited to share Sophia's Unicorn birthday party with you all!  I can't believe she is already one year old. Like every mother before me, I'm shocked by how fast the first year went. I think the biggest transformation is to see your baby going from a newborn to a little person walking around and starting to talk! Time flies by in a blink of an eye, what everyone will tell you is the absolutely true.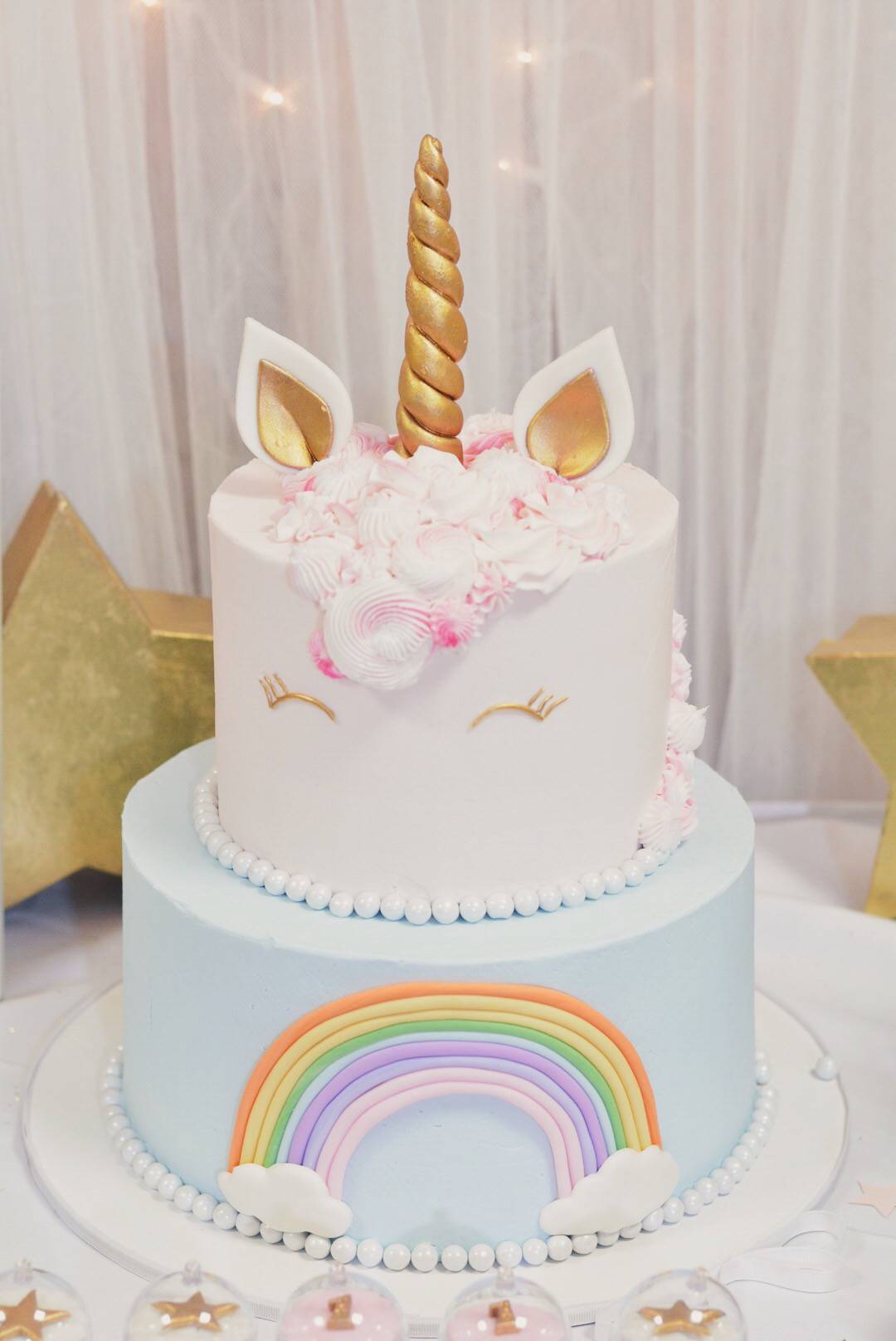 When it came to the theme of the party I was really undecided for a while, at first I thought I wanted a princess theme, then star theme and the list goes on and on, lol! Then finally I saw this unicorn cake on Instagram and I was sold! I love unicorns and how whimsical they are and thought it would be perfect for her first little party. You can see my inspiration board here.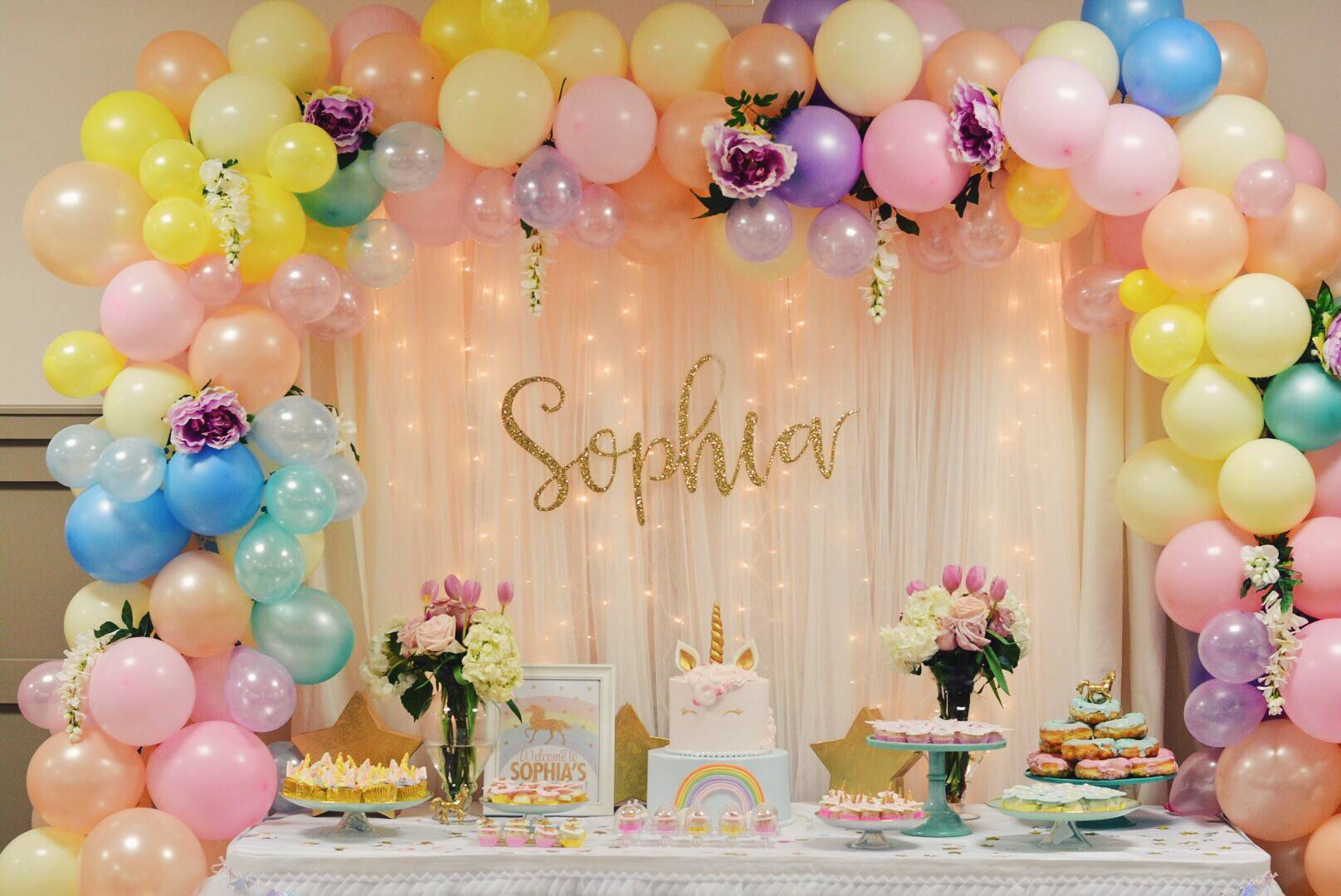 For the main sweets table, I did a pastel balloon arch with flowers and a curtain backdrop. For the balloon arch, I used this tape as the base, and added the bigger balloons to it. I then used a low temperature glue gun to glue the smaller balloons. Once all glue dried, I added faux peonies from Ikea and other flowers from Michael's.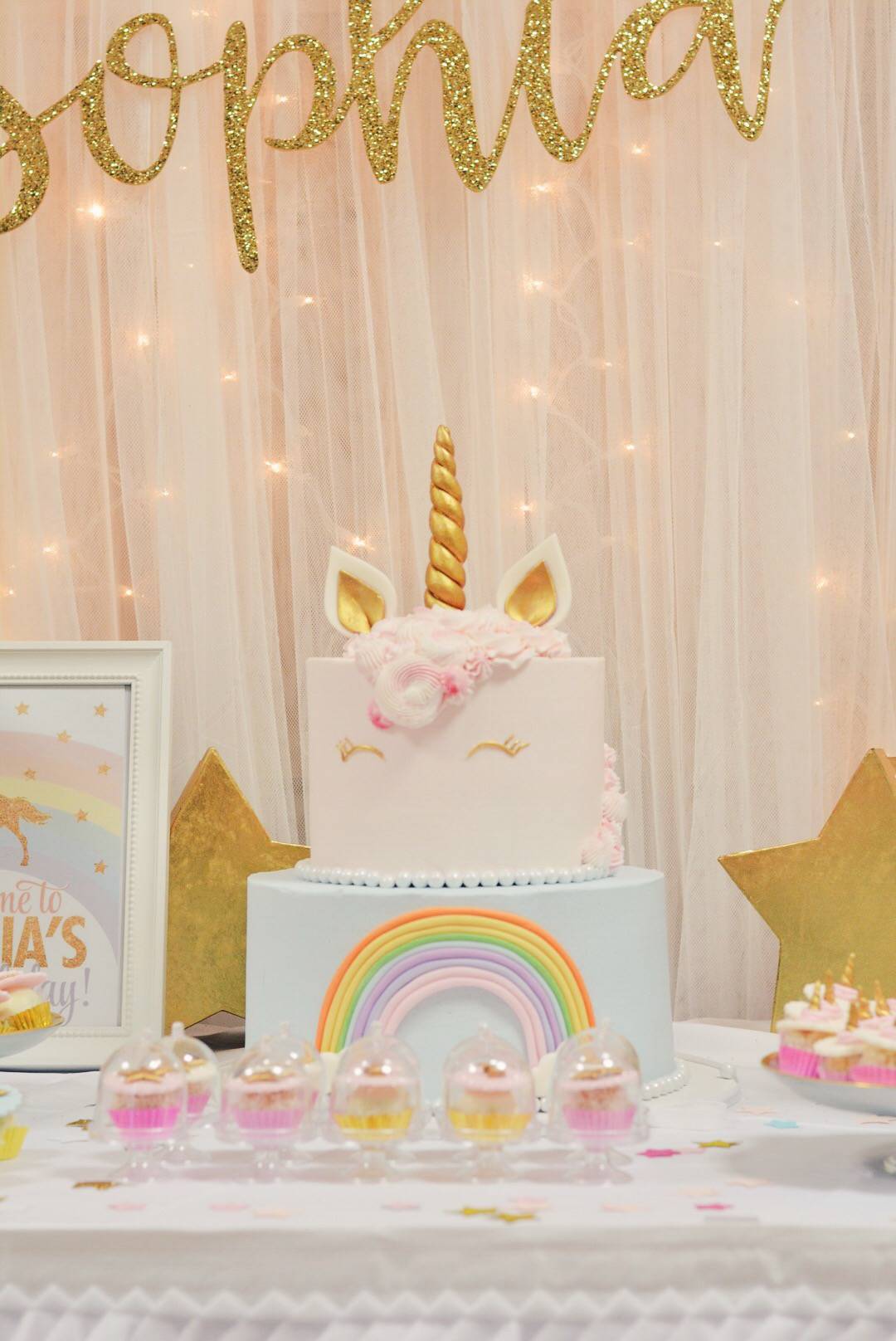 On the main table, I had this beautiful unicorn cake and a mix of sweets done by Flora Deserts. The donuts cake and unicorn cupcakes were made by my sister in law!
Here are some tips on creating your own balloon arch:
Blow the bigger balloons in different sizes but don't blow them up all the way. You want them to be a little round and if they are too full u won't be able to attach as many onto the tape
Blow up the balloons 2 or 3 days before and store them in plastic bags
Attach the balloons to the tape in different directions
Get an electric pump (you will thank me!!), I did over 300 balloons in 2 hours
Use cluster of colors (I suggested a minimum of 3 balloons of each color)

Since the place didn't have a lot of natural light, I added Christmas lights to the background and used cheap Ikea curtains attached it to a photo background stand. I then added these beautiful glitter letters to it. I huge thanks to Funky Letter Boutique for making the beautiful "Sophia" script letters for the background. Britaine was great to work with and she customized the letters to the size that I needed.  The Unicorn invites and all the party printables are from Sprinkled Designs on Etsy.  Linda has so many great options on her site and she worked with me to create all the cute designs!
I had a second table with this rainbow background that unfortunately I was not able to finish. It was supposed to have a cotton candy cake stand, but due to the snow storm the cotton candy did not arrive on time. I still used the second table for water, star shaped peanut butter and jelly sandwiches, and her smash cake.
For activities, we had a bead station for the girls to do bracelets, it was a super hit! Everyone loved it. I also made unicorn headbands and star wands.
I have linked all the balloons and tools I used here:
As always, let me know if I forgot to list something or if you have any other questions. Hope you enjoyed her little party!
With love,
Ceres