Oh hello there little blog! It has been a while… I have been crazy busy lately. We have listed our apartment and already have an offer on it! We also started house hunting for our new home, which lead us to quickly realize that we will have no choice but to do some renovations. The inventory of homes in the area we are looking for its very small and most homes need a lottttttttttttt of work. I'm actually quite excited about it since this is the perfect opportunity to design the house of our dreams (or at least get close to it on our budget, lol). So lately I have been pinning like crazy and researching all the things I want to have in the new home. Today I wanted to share some of my favorite trends that I have been seeing and that I would love to incorporate in my dream kitchen!




Wall of Windows:
This is probably my favorite trend that I have seen so far. Gone are the days of just one little window above the sink. New kitchens are featuring two/ three even a whole wall of windows! Which not only looks amazing but it also lets so much light in.
Drawers, Drawers and More Drawers:
This is definitely a must have for me. I want tons of lower cabinets with drawers! I think drawers makes so much more sense and are so much easier to organize. Lower cabinets are just hard to reach and hard to keep organized. My dream kitchen will have most drawers in the lower cabinets!


Range Hood:
If there is one thing that seems to instantly elevate a kitchen design is a range hood. This is also something that it is not available in most of the kitchens that I have seen so far but is definitely a must have for me. The range hood creates a focus point in the kitchen and it looks so much better than then top cabinets or microwave.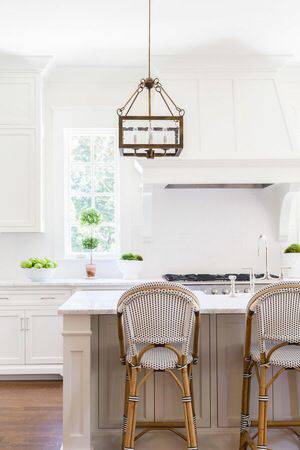 The Perfect Faucet:
While researching brass fixtures on Pinterest I discovered the most beautiful kitchen faucet I have ever seen and it was love at first sight!! Its the Rohl Bridge Faucet I love the simple lines and how vintage it looks. Isn't it a beauty? Now, when I researched the priced I almost fell of my chair [insert crying emoji here]. I guess the perfect faucet exists but it will cost you an arm and a leg…. I did find some look alike faucets for a much better price and linked it below.

Via: Pinterest
Shop the post:
I also love the little topiary trees in this last picture! Cant wait to have a house so I can start having more greenery around. What are some of the kitchen trends that you are most excited about? Would love to know!
With love, 
Ceres